Baer Swords
If you were anything like my friends and I growing up, you probably spent a good amount of your time outdoors, imagining a number of fantasy scenarios that all involved "swords." Whether they were wielded by knights defending the crown, pirates on the high seas, or as futuristic sabers of light, your swords provided hours of fun and adventure. At Baer Swords, it's our intent to bring back the enjoyment of sword fighting through class sessions that teach the techniques and principles of Western martial arts, allowing you to relive the excitement while learning an ancient skill and getting some exercise in. In response to an overwhelming amount of requests for local sword fighting instruction, The Baer Swords School of Western Martial Arts was established in 2015. Located in Kansas City, Baer Swords is the brainchild of sword master and Western Martial Artist Baer Kenney. Using modern, athletically oriented equipment to simulate these masters as best possible while keeping safety at the forefront, Baer Swords instructors will show how to best utilize these techniques for maximum effect and maximum advantage.
About HEMA
HEMA or Historical European Martial Arts is a world-wide, broad study of swordplay and western martial arts and Baer Swords seeks to advance this style of combat at every opportunity.
Baer Kenney - Owner/Lead Instructor- All Weapons
Driven by a life-long passion for swordplay and armed personal combat, lead instructor and owner Baer Kenney boasts more than 30 years of experience in the field of Western Martial arts. In addition to studying fencing in college, Baer enhanced his skills with high degrees in Tae Kwon Do, Hap Ki Do, and Karate. Studying the work of medieval sword masters while sparring and fighting with a variety of LARPing, live steel sword fighting, and historical re-enactment groups, Baer continues to perfect his craft. Now, he brings to you his passion for the history of the blade, the intensity and grace of the sport, and the camaraderie of community with his students.
Rob Davis -Exotic Weapons Instructor
Having been with Baer Swords since 2018, Rob is a true enthusiast and accomplished student of both eastern and western martial arts. Drawing on his experience in multiple forms of martial arts, he leads our Exotic Weapons class with a broad skillset that few can match. Rob also expands our European Wrestling and Grappling techniques with a Judo and Ju-Jitsu perspectives.
Rob has had a lifelong pursuit of knowledge in all types of martial arts and has come to HEMA to expand upon that background that represents numerous countries and traditions. He has competed at the national and regional levels in Judo, Brazilian Ju-Jitsu, MMA and attended clinics and coaching seminars on multiple weapons styles. Rob also has received his instructors and referee certificates in Judo and Shingitai Ju-Jitsu and recently reached the High Gold level at Baer Swords. He is excited to coach at Baer Swords and expand his knowledge and that of the students in the art of combat.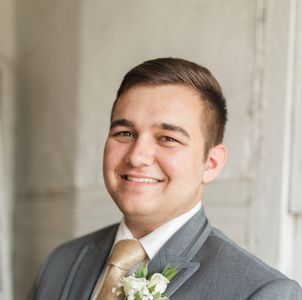 Bryan Howard- Two Handed Weapons Instructor
Bryan has been honing his skill with Baer Swords almost since its inception in 2015, following the school as it has grown through several locations and developing alongside hundreds of students. He has a strong passion for HEMA and a love for combat sports.
Having competed and medaled in many regional tournaments, Bryan has experience in many styles of sword-play - and his talent and experience shows in every class he instructs. He has found his true calling through helping students grow in skill and finding their sword-related goals. Able to make learning what can be an overwhelming amount of material fun yet safe, Bryan creates a space where every student comes away with newer, stronger skills after every class.
Christopher Preyer - Advanced Weapons Instructor, One Handed WEapons Instructor
Christopher has been studying European swordplay for over ten years, and has been with Baer Swords since 2016. Fascinated with the sword fighting from films since childhood, he discovered the HEMA community in college, practicing techniques and drills with friends between history classes and theater rehearsals, while earning a Bachelor's degree in Theatre. In the time since, he has studied longsword, saber, Scottish singlestick, rapier, spear, sword and buckler, smallsword, and dagger as well as stage combat and stunt work.
He has earned medals in tournaments in Missouri, Nebraska, and Nevada; his highest profile victory taking place at Combat Con 2021 where he took silver in singlestick and gold in saber.
A constant history buff, he has incorporated a study of medieval and early-modern culture into his study of swordplay, as well as participating at living history sites such as Salem 1630: Pioneer Village and as a member of the Yeoman Bodyguard reenactment group.
Christopher welcomes students of all levels and is passionate about helping each student reach their full potential while developing their interest in swords and swordplay.
Michael Stack - Two Handed Weapons Instructor
Michael's background is rooted more in sports rather than martial arts, specifically basketball and baseball. His martial arts training began when he joined Baer Swords at the end of 2019 where he quickly developed a passion for swordplay. He excels at longsword and has taken several medals in this category; he has also won medals in rapier, sword and buckler, and saber. His most notable victory is from CombatCon 2022 where he took the gold medal in Tier 1 Longsword.
His passion for swordplay has evolved to include teaching others what he has learned at Baer Swords. He is excited to help students of all ages hone their skills, learn new techniques, and become better fighters.
Kyle Wingo - Stoutsword Weapon Instructor
Kyle began honing his sword fighting skills with Baer Swords early in 2021 and showcased his innate ability. He continues to grow in his journey and hone his skills in multiple weapon styles, achieving rank in both One Handed and Two Handed Weapons. He has unmatched patience and grace and has proven himself to be a natural, conscientious teacher who makes sure his students learn skills, discipline, and honor in each class. Kyle leads our Stoutsword Weapons class with enthusiasm and is eager to share his knowledge about these weapons with everyone.
Ready to get started?
Discover your passion through the sword fighting class of your choice at Kansas City's premier sword combat studio. We promise hands-on instruction, expert support and more fun than you can shake a sword at.